#Croydon #TechCity April Edition – A review
---
---
On Thursday 25th, more than eighty people piled into Matthews Yard for the April Edition of Croydon Tech City. Jonny Rose gives us the gory details
---
DEMO: Jude Joseph, Founder – Help My Cause
Jude Joseph is a developer from West Croydon who has built Help My Cause – a fundraising platform similar to Kickstarter.
Although the platform has only been around for a year, it already has a sizeable client base. Client use cases include; raising money for local community projects in Croydon (such as Sarah Milne has done for William's Wishes), donating funds for causes, families, and friends, and connecting with third world organisations and NGOS.
Jude has monetized the platform in several ways: charging a 3% fee on all transactions, offering advertising space on the platform, utilising a premium 0844 number, charging for SMS text message services, and selling a line of spinoff merchandise and paraphernalia.
DEMO: Raj Singh, CEO – Sooqini
Next up was the intriguingly named Sooqini – the name originated from the Arabic word "Souk", meaning 'market', and -ini, meaning small. Together they approximate to "local marketplace".
Sooqini was founded in 2011 when one of the founders was constantly swamped at work and couldn't find any easy way to outsource everyday tasks which didn't involve paying hefty concierge fees nor cloning himself.
A year later, and Sooqini is used by over 10,000 people in the UK to post and source local jobs and tasks. One of the ways Sooqini has grown in users ('buyers' and 'sellers') is through the creation of Campus CEOs who are ambassadors at various universities that are empowered to sign up fellow students.
The 'buyer' posts their task, specifying what they want, where and when they want it, and their price to save money and time. 'Sellers' automatically get the task or can proactively find it and make an offer to help. The 'buyer' has full disclosure of each seller (can even communicate without sharing personal details) and can choose the best offer based on price, quality, or reputation.
Upon acceptance of an offer, online payment is "held" initially in a secure Sooqini account and a moneyback guarantee is offered to protect both parties. Once the job is done the seller is paid and Sooqini gets a fee for the completed transaction. Ratings and feedback are then exchanged.
Raj offered an account with £5 preloaded and a free drink to anyone who would tweet the most creative "I'd use @Sooqini to…". Entries ranged from 'learn dress-making' to 'find Jonny Rose a wig'. To date I have no idea who won!
**SURPRISE CROYDON TECH CITY-THEMED CAKE FROM THE 'GREAT CROYDON BAKEOFF' TEAM**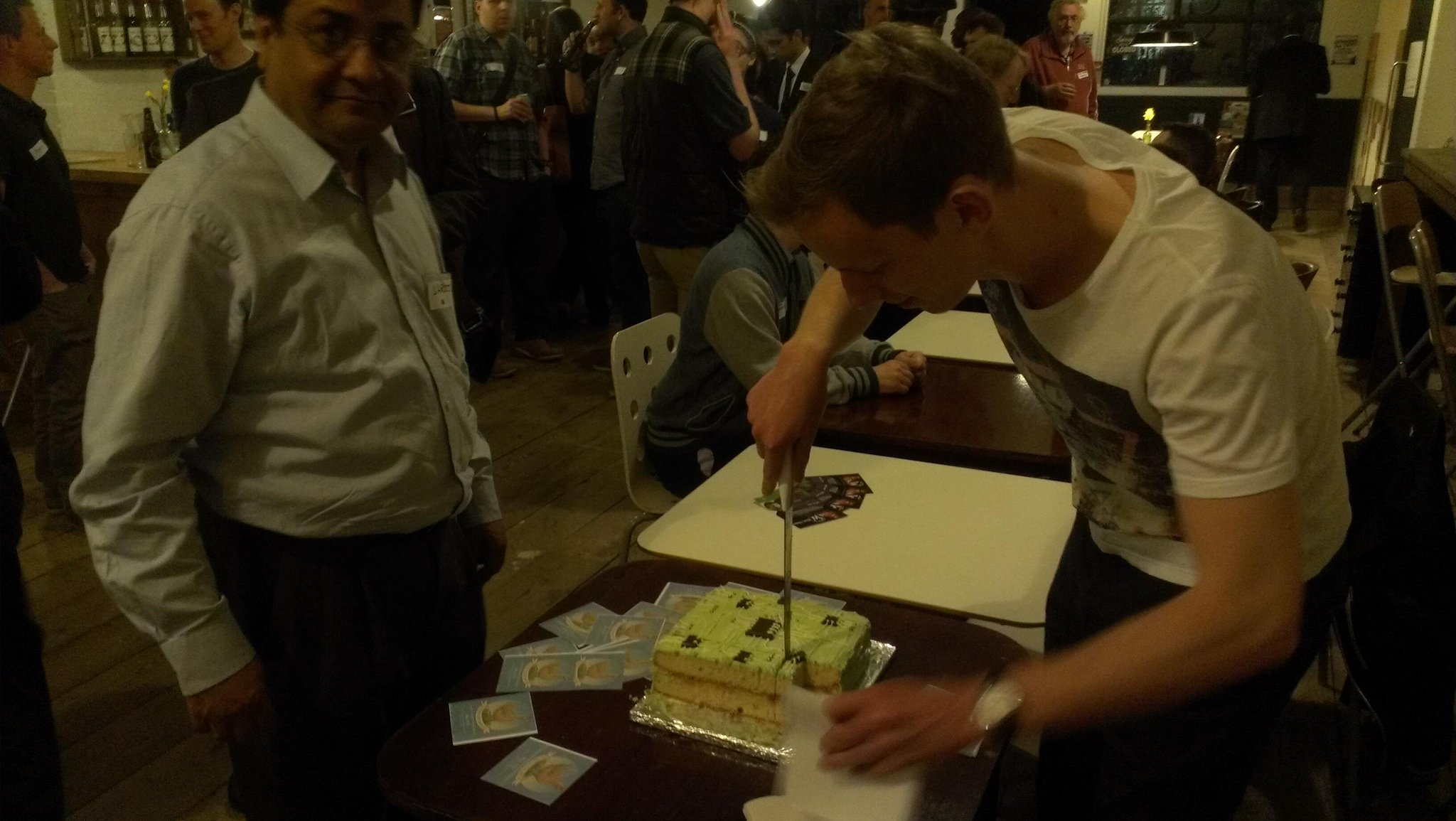 The Great Croydon Bake-Off is a phenomenal quarterly event masterminded by Christo Matthews which puts a Croydon twist on the popular British TV show.
You can read about the last one here. You can join the Facebook page here. The next event is Saturday May 11th 12-6pm outside Matthews Yard.
Paul Barnett – Car-washing,Computers and CIX
Purley businessman Paul Barnett's talk was a rip-roaring tale of precocious tech entrepreneurship, and – most importantly to Croydon Tech City – a real validation that it is possible to grow a profitable tech business in Croydon, that can rival equivalents in the City.
From an early age Paul exhibited entrepreneurial tendencies – starting with a car washing service when he was fourteen on his road and for teachers' cars at school. One of his teachers taught him how to build a computer and, ever one to diversify, Paul started the first computer repair and car wash company called 'DBS'.
His next pop at making money from computers was in 2001, when ICUK began as a bedroom startup devised by Paul and his business partner, Leslie Costar. As young students studying Engineering at Oxford Brookes, both Barnett and Costar realised that they could make more money – and have more fun – starting an internet hosting business, rather than pursuing their university studies. Over a decade later, the company has evolved to be one of the premier providers of internet hosting and telecoms solutions, with a novel suite of self-developed products.
As well as ICUK, Paul also owns CIX – Europe's first online social network. You can read more about that here.
The next Croydon Tech City will be a 'Women in Tech' event with demos and discussion from the UK tech scene's leading ladies.
To sign up the event – to be held on Thursday 30th May at 7.30pm -go here.
Croydon Tech City FTW.
---
---