'"The postmodern equivalent of a Nigger act": A Review of David Mamet's Race'
---
---
---
Hampstead Theatre, Swiss Cottage
Time from East Croydon 
 40 mins
"I know that there is nothing a white person can say to a black person about Race. Which is not both incorrect and offensive.
Nothing.
I know that. Race is the most incendiary topic in our history. And the moment it comes out, you cannot close the lid on that box. That may change. But not for a long long while.
Now, meanwhile, the laws are such, that I, when I, or, some-day, you, even you, employ an  African-American, should you wish to discharge that person, they are armed with the potential to allege discrimination. That's a fact."
Jack Lawson, Race.
I've never quite forgiven David Mamet for casting Julia Stiles in the 2004 West End run of Oleanna. Being subjected to Stiles' own brand of lenticular monotony was enough to put me off Mamet's work for nearly a decade.
However, when I saw that the pioneer of 'dirty realism' had recently become radicalised, I had to seize the opportunity to see how far he had come since Oleanna's initial foray into the folly of political correctness.
Race is a one act play set in the contemporary offices of a New York legal practice owned by partners, Jack Lawson (Jasper Britton) and Henry Brown (Clarke Peters).
Flanking the lawyers are Susan (Nina Toussaint-White), a bright-eyed young African-American graduate newly hired to the firm, and bewildered client Charles Strickland (Charles Daish), a rich white man who has been accused of raping a young black woman he was having an affair with.
Over the course of 90 minutes, we are a presented with a mystery as Jack, Henry, and Susan deliberate whether Charles is telling the truth. All the while, home truths about each character's racial prejudices and presumptions are exposed in a flurry of frenetic speech and accusatory stares.
Mamet is at his best when he is profiling the dark underbelly of the American working-class. The strength of American Buffalo and Glengarry Glenn Ross came from Mamet's inimitable ability to capture the profane mouths and uncomplex concerns of poor men exercising a Darwinian lunge for survival.
The play's most coruscating lines were couched in a Morgan Freeman-esque genialism
Here we have two lawyers, both of whom emerged from a working-class background but have slogged it out to the heights of the New York legal scene to enjoy a middle-class existence. Their speech is peppered with the ribald nihilism of Mamet's earlier characters, but, like the playwright, they too have lost their verbal potency.
Perhaps it was my distance from the stage but I felt a distinct lack of rage from the whirling dervishes before me. I mean, sure, there was a lot of shouting, but I never felt the fury I suspect Mamet was hoping to channel through the characters.
Any hope of onstage tension was repeatedly punctured by Jack's effervescent portrayal of a white Irish Catholic who can't help but play the fool whenever the heat got too much in the kitchen. Henry served as a less comical counterpoint; a sedate, knowing greybeard who distrusts everyone and "would be mortified to know he had got to where he was today because of positive discrimination". Unfortunately this meant what should have been the play's most coruscating lines were couched in a Morgan Freeman-esque genialism.
Nina's progressive arc from merely a background adornment to a key plot pivot – as both victim and victor – was utterly unconvincing. To Toussaint-White's detriment, Mamet is unable to write female characters who aren't either whores looking for redemption or over-educated politically-correct harpies, but it was also apparent that her recent graduation from the Eastenders school of repertoire did not teach her how to hold a convincing New York accent.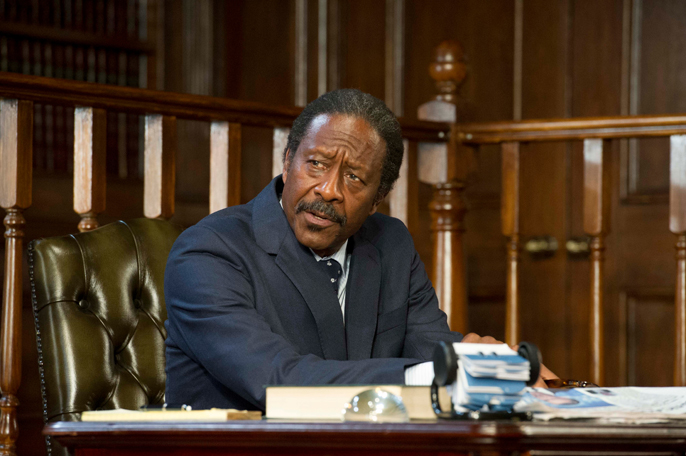 The rampant negrophilia of the (mostly white) audience – embodied by the over-compensatory laughs whenever a black character said something even vaguely witty – also detracted from the atmosphere (one really has to doubt the mental fortitude of an adult audience that feels the need to elicit a nervous titter every time the phrase "black c**t" is used). Admittedly, my chagrin at the calibre of the audience may well be a passive-agressive projection because Hampstead Theatre does not stock Baileys.
There were elements of Mametian genius which were sadly few and far between, although I particularly liked how Jack's scheme to undermine a witness report:
"To distract people from a shameful act you have to give them with an even more shameful act… Howsabout we say Charles didn't say, 'I'm going to f**k you, you nigger bitch', but convince the jury he said [endearingly], 'I'm going to f**k you, my nigger bitch'."
Race is not even close Mamet's best but reflects the work of a firebrand who is not afraid of saying the unsayable.
My viewing of Race could not have come at a better time as on the same evening, the US courts voted to repeal Section 4 of the 1965 Voting Rights Act – a key piece of civil rights-era legislation which had historically monitored potentially biased voting conditions.
Whether you see this as a sign of progress or regression will most likely also impact how you view Mamet's polemicism.
The uncompromising look at race relations is not particularly revelatory for those of us with a modicum of awareness but I'm sure it is a shock for the well-meaning "whitey" who insists on taking up minorities' causes. As such, Race serves as an important augur that the constant braying of the insipid 'check your privilege' crowd is a zero sum game which displaces privileged incumbents whilst having nothing of substance to fill the vacuum.
That said, it was refreshing to see Race posit a most inconvenient truth: the White Anglo-Saxon Protestant male is now the most persecuted minority in the Western hemisphere.
Race continues its run at Hampstead Theatre until Saturday 29th June.
---
---